Today we headed down to Laguna Hills to check out Grandma and Grandpa's new pad. ( they move in a few weeks)
Isaac didn't want to hold my hand. He said he wanted to hold Ke'in's hand...I melt....
Then we headed down to Laguna Beach to a Taco stand called Laguna Feast. It was yummy and a great deal!!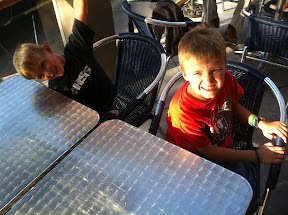 Owen was asleep for most of dinner!!
But he ate rice cereal tonight and yesterday morning! I'll post pics of that soon!
Posted using BlogPress from my iPhone